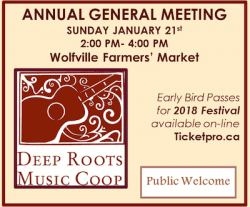 The Deep Roots Music Cooperative experienced a very successful 2017 and we look forward to much more of the same in 2018.  Please join us for our AGM, Sunday January 21, 2pm to 4pm, at the Wolfville Farmer's Market and join the discussion around what has been and what will be!  
The 2018 Festival will take place September 27th – 30th, so mark those dates on your calendar. For more information as plans develop over the year, visit our website, follow us on Facebook,  Instagram or Twitter. 
Who Should Attend the AGM?
All members* , as well as  members of the general public, are invited and encouraged to attend.  Voting members** will participate in any required voting
* Deep Roots Member – anyone affiliated with the Deep Roots organization, anyone who has attended a DR event or connected with DR through social media.
** Registered Deep Roots Voting Member – anyone who in the past year has contributed (donation or sponsorship) to DR at a $250 or higher level, anyone who has volunteered with DR a minimum of fifteen hours, has purchased a weekend pass or anyone who has purchased a voting membership for $10.
AGM AGENDA
Approval of the agenda
Approval of the Minutes from the 2017 AGM
President's Report
Financial Report
Festival Report
Nomination Report and Election of the Board of Directors
Other business
Motion to Adjourn
Want to Become a Member?
For information on membership please visit our web site https://deeprootsmusic.ca/get-involved/membership/
If you have any questions about the AGM, or if you are a member and would like to volunteer to join the board of directors please contact Peter Mowat at