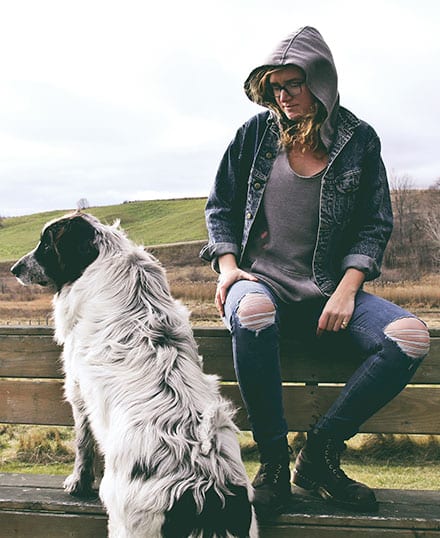 "Her songwriting is ravenous. Even here, in uneasy happiness, the 27-year-old sounds like she will wolf down her life as fast as she is able. The windfalls, the crises, the concerts, the chance encounters – she'll sprint through them all, collecting burs. This is work in the tradition of Dylan or Townes Van Zandt," – Sean Michaels, The Globe And Mail.
Toronto songwriter Charlotte Cornfield has been releasing music for over 10 years, and penning verses for longer than she can remember. A clever and innovative lyricist, she exists in the same continuum as progenitors of song like Bob Dylan and Neil Young, as well as more contemporary writers such as Courtney Barnett, Angel Olsen and Will Oldham. Vocally, Cornfield stakes out her own territory; by turns a lived-in, streetwise drawl, an octave-sweeping falsetto, and a comfortably crooning alto. In 2016 she released Future Snowbird, a follow-up to 2011's critically acclaimed Two Horses, which The Record's Coral Andrews calls "a folk-rock tapestry so raw and vulnerable, it's almost as though she's a fly on the wall of her own relationship."
The songs on Future Snowbird grew out of Cornfield's time living in New York from 2012-2014, chronicling an overall constellation of ups and downs. The album was recorded during the winter of 2015 at Rooster Studios in Toronto, and was produced and engineered by Don Kerr, the drummer, cellist, and vocalist known for his work with Ron Sexsmith and The Rheostatics. In conjunction with the album's stellar cast of musicians – which features Tim Darcy of Montreal post-punk outfit Ought and Tegan & Sara's Johnny Spence – they delivered Cornfield's strongest statement to date. The singer recalls it all as "a beautiful, fluid and painless process" and it shows. Each song is a moodscape all its own, with Cornfield's long-term band as the backbone.
Aside from her work as a solo artist, Charlotte Cornfield has a few other plates spinning: she holds down the drum chair for several Toronto acts and regularly tours with Tim Darcy of Ought, and beyond her own discography she has a vault of recording credits as a drummer and singer. Her songs have appeared in films and television shows internationally, and she's shared stages with the likes of Anais Mitchell, Sharon Van Etten and Lake Street Dive. In 2015 she completed a residency at the prestigious Banff Centre, where she recorded and collaborated with Brendan Canning, Kevin Drew and Charles Spearin of Broken Social Scene. She is currently working on a new album.
For more visit: