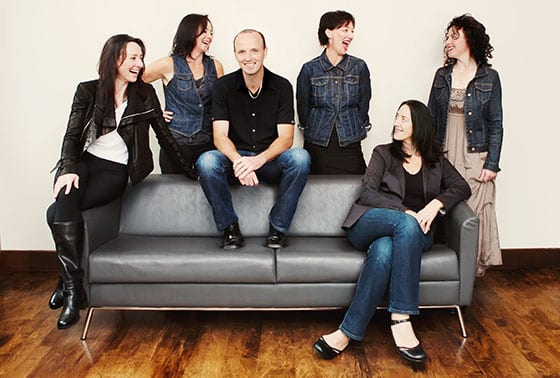 Friday Evening Main Stage, Sept. 28th, 7pm, Festival Theatre
Over the course of their notable career, Canadian group Leahy has secured a place as one of the country's most highly regarded progressive folk-roots bands. Their emergence on the Canadian music scene in the late 1990's with their chart-topping instrumental single "Call to Dance", introduced audiences to a new way of accessing a uniquely Canadian music genre. The "Leahy sound" – a combination of strong stride piano, unique bass guitar and drumming styles along with driving rhythm guitar – was the foundation from which wildly talented fiddle led instrumentals and vocals were launched to mainstream music listeners. Leahy would go on to win three Juno awards and receive countless accolades for their dynamic and powerful performances.
To date Leahy has sold more than half a million albums worldwide. They have been featured in three PBS television specials – Leahy Live in Concert, Gael Force (with the Chieftains), and Leahy Live from Gatineau, Quebec – and are the subject of an Academy Award winning documentary, The Leahys: Music Most of All. As well as touring extensively throughout Canada, the USA and Europe in support of three acclaimed records – Leahy, Lakefield, and In All Things – the band had the enviable opportunity of opening for fellow Canadian, Shania Twain, throughout the USA, Canada and the UK on her record-breaking Come On Over tour.
Since early 2017 Leahy has been back in the studio recording new music. The focus is on songs and the band's original songwriting and instrumental compositions. The result is a wide-ranging collection that reflects the individual personalities that make up Leahy. Built on their roots and the distinctive "Leahy sound", their new material reveals the band's drive to continue pushing beyond its traditional footings. It's a powerful record that delivers a sumptuous feast of solid music, pulse-raising rhythms, compelling storytelling and infectious melodies.
On the edge of a new chapter in their career, some things don't change – the experience. An encounter with Leahy is inimitable. Performances are full of energy, big rich sound, poignant songs, fiery instrumentals and percussive step-dancing – all delivered with unapologetic passion! In one word – unforgettable. And this year, that unforgettable experience is part of Deep Roots Music Festival, 15th anniversary!
For more visit: