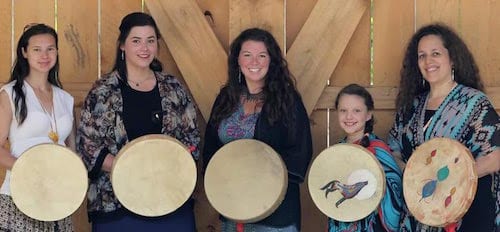 Smudging Ceremony –  September 27th, 6:15pm – in quad outside Convocation Hall
Mi'kmaq dances, chants, and songs were often accompanied by the drum which represents the heartbeat of the people. Melgita't Women, a group of indigenous women, are exploring their heritage and culture together through drumming and singing. Rachel Whitney, Mika Francis, Kayla Mansfield-Brown, Penney Brown, and Penney's daughter, Calla, also spend time, as a group and individually, discussing Indigenous history and practicing traditional crafts, as well as focusing on reconciliation. Some of the most poignant work they've done is performing for ceremonies held for Missing and Murdered Indigenous Women. Seeking their own roots, they conduct their work in the spirit of sharing traditions, while honouring and inviting ancestors.
Smudging – part of the spirituality of our Indigenous people – connects the material plane to the realm of the spirits.  The ritual of smudging uses the smoke of various sacred plants to drive off negative energy and to restore balance to an individual, a group, a space, or all three. It's a little bit like taking a spiritual shower!  Herbs and resins are placed in a special bowl and burned.  In Mi'kma'ki, tobacco, sage, cedar and sweetgrass are traditionally used. A sacred eagle feather is used to waft smoke around the person or object being smudged.
On Thursday, September 27th, Melgita't Women will lead a circle dance and group smudging ceremony in the quad outside Convocation Hall, starting at 6:30. (We will have some shelter if it rains.)  People who wish to be smudged individually may come forward to have this done after the group smudge, until 7:15.
Even if you do not wish to take part in the smudging, if you simply would like to be surrounded by the sound of the drum, feel free to come!
 Melgita't Women will, also, perform the Honour Song of the Mi'kmaq at the beginning of the Kick Off concert Thursday evening and  Mika Francis, a  member of the group,  will be the MC for that show.