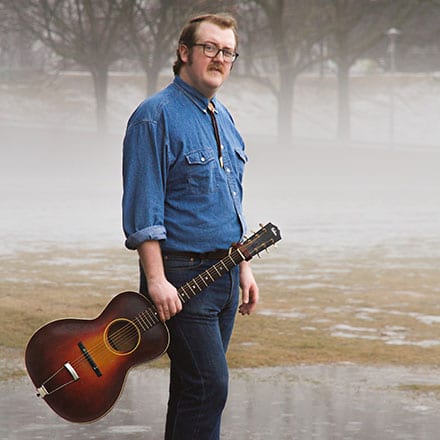 Saturday Evening Main Stage, Sept. 29th, 7pm, Festival Theatre
Sunday Afternoon Main Stage, Sept. 30th, 1pm, Festival Theatre
Mike Kerr is a wild flat-picker and ambitious country songwriter of Canadian heritage and American citizenship. During his time at Berklee College of Music in Boston and in over 10 years of performing, he's lived his life through many historical and contemporary musical styles.
Always curious to dig up not only a song's history, but the shape of the world at the time, Mike plays passionately and openly while interpreting the great guitar players of the past. Born in Michigan to Canadian parents and raised in Ontario, Quebec, and Virginia, it's hard to pinpoint exactly where Mike is from. He hangs his hat at any given time in Halifax, Nashville, Toronto, or in whichever touring vehicle he's calling home. He's called Halifax his not-on-tour home base since 2016.
In Halifax, Mike fronts The Franklin Brewery Boys, a bluegrass and hot swing ensemble nominated as Halifax's "Best Country Band" in The Coast in 2017. He often accompanies local performers Willie Stratton and Ryan Cook on stage.
In Nashville, Mike performs originals and covers at local venues, while moonlighting on the road as a bass player for local space rock / doom metal band Howling Giant.
In Toronto, at venues such as The Cameron House, Burdock Music Hall, and the Local, he can be found playing original country music or lending his guitar skills to Canadian folk singers such as Corin Raymond, Dana Sipos, Campbell Woods, and more.
After a 2017 of touring and performing with 14 different artists between the US and Canada, Mike has focused 2018 on touring his own material, releasing a self-titled debut release currently available for pre-order, and expanding his reach all around North America and across the pond.
"The first time I heard Mike Kerr play, it took me back to when I was first learning guitar and everything was new again. He floored me with his effortless, yet, razor-sharp playing. It shook up everything I thought I knew and has made me strive to be better ever since. I've started practicing my fingerpicking again because of Mike. Humble, charming and impossible to tire of, his playing and songwriting draw from multiple eras that will surely leave you impressed. You can tell in the first 30 seconds that he has an unbridled passion for guitar playing. A true gentleman." – William Prince, songwriter, Juno award winner
We are looking forward to welcoming Mike to Deep Roots this year and no doubt, audiences will leave his performance with a wee hop in their steps!
For more visit: