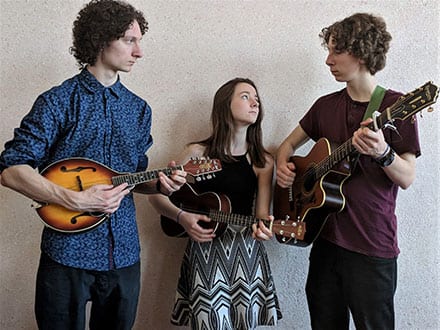 Sunday Afternoon Main Stage, Sept. 30th, 1pm, Festival Theatre
It's 2003.
Three kids, knee-high to a grasshopper, emigrate from the UK to Canada and settle with their music-loving parents in rural Nova Scotia. They are given three soprano ukuleles – Frieden gets the brown one, Reuben gets blue and Maisie – red. Strings buzz and zing and before long – there is music. Onward! Enter excellent teachers in the public-school music program who enthuse and encourage. Frieden picks the trumpet, Reuben the tenor sax, Maisie the alto sax and flute. Reuben discovers guitars and goes to his room – emerging some years later as a bodacious player.
All three Gilberts join the Annapolis Valley Honour Choir and now they are singing big time. Summers bring open mics at festivals. Close three-part harmonies are becoming part of their signature sound. Join the Acadia Youth Band. Frieden gets a theremin. Reuben picks up a banjo and puts down a mandolin. Frieden picks up the mandolin. Maisie is singing, singing, singing. Invitations to perform at community halls, fund-raisers, house parties, coffee houses and concerts arrive. Looks like we have 'a band'. Better come up with a name. Go with 'The Gilberts' – well it's accurate! Need original material now. Songs are teased, argued, massaged and collaborated into existence. Soulful lyrics and folk roots. People seem to like them – "Do you have a CD?"
It's 2018.
Frieden is 19, Reuben, 17 and Maisie 15. The Gilberts have their first CD. This year they played The Full Circle Festival at Newport Landing, The Lunenburg Folk Harbour Festival, and a whole bunch of other events with more to come. The Gilberts are especially thrilled to be 2018 Deep Roots Festival artists! And Deep Roots Festival is also thrilled!