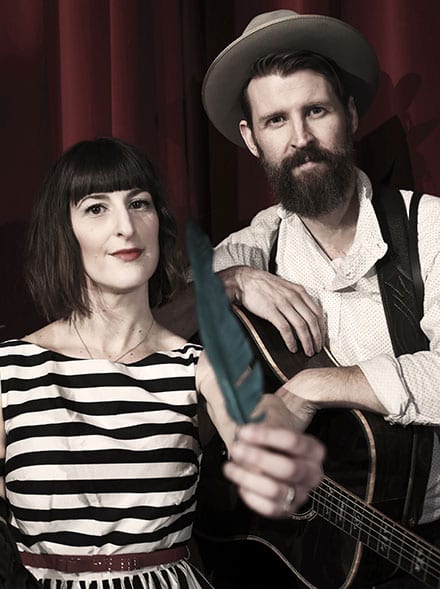 Saturday Evening Main Stage, Sept. 29th, 7pm, Festival Theatre
Hang onto your hats because this genre-bending power duo is ready to take you on a ride! Tomato/Tomato perform an eclectic mix of folk and country that will have you rolling down your windows and singing at the top of your lungs.
Their live show includes jaw dropping multitasking, dynamic guitar arrangements, and soaring vocal harmonies. Stitch these elements together with compelling, heartfelt songwriting and you have an unforgettable musical experience.
Whether you say "Tom-ay-to" or "Tom-ah-to" – this high energy duo will have you stomping your feet, clapping your hands, and playing your air washboard with reckless abandon! With two acclaimed albums (So it Goes / I Go Where You Go), Tomato/Tomato is sure to be cooking up something fresh.
"Husband and wife team John and Lisa McLaggan combine their talents and their voices to create a sound that's part Old Crow Medicine Show and part Some Velvet Evening." – Brian Rock, Americana Magazine, Turnstyled Junkpiled
Don't miss this talented duo at this year's Deep Roots Music Festival.
For more info: