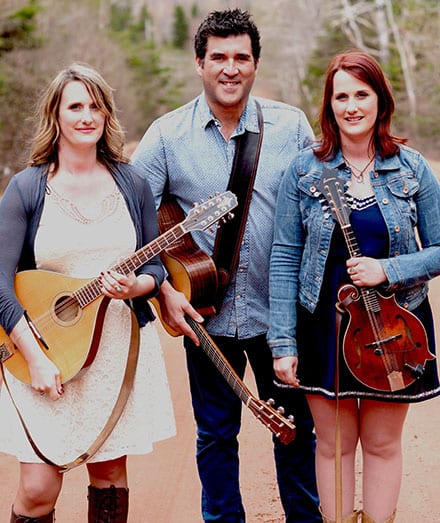 Saturday Evening Main Stage, Sept. 29th, 7pm, Festival Theatre
Friday Night Late Night Dance Party, 10:30pm, Wolfville Farmers' Market
For over a decade, the Acadian powerhouse trio Vishtèn has been recognized as an ambassador of Francophone culture around the world. The Canadian trio has dazzled audiences with its fiery blend of traditional French songs and original instrumentals that fuse Celtic and Acadian genres with modern rock sensibilities and indie-folk influences.
Hailing from Prince Edward Island's Evangeline Region and the most remote reaches of Quebec—the windswept Magdalen Islands—twin sisters Emmanuelle and Pastelle LeBlanc join musical forces with Pascal Miousse to create a sophisticated sonic signature that combines tight vocal harmonies, layered foot percussion, and virtuosic acoustic instrumentation. Their trademark blend of fiddle, guitar, accordion, octave mandolin, whistles, piano, bodhrán, jaw harp and percussive dance result in a tour de force of traditional and contemporary music.
Performing and teaching extensively on three continents, the name Vishtèn has become synonymous with Acadian music worldwide. They have released five award-winning albums, including the 2016 East Coast Music Award for "Roots/Traditional Group Recording of the Year," and have performed thousands of shows at international venues, from the Vancouver Olympics to France's Festival Interceltique de Lorient. Vishtèn's music has been featured on American television (ESPN), in the Canadian-Japanese film Finding Anne (2009) and in the Quebecois biopic Louis Cyr (2013).
Deep Roots is thrilled that this powerhouse group will return to share their music at this year's Festival.
For more visit: