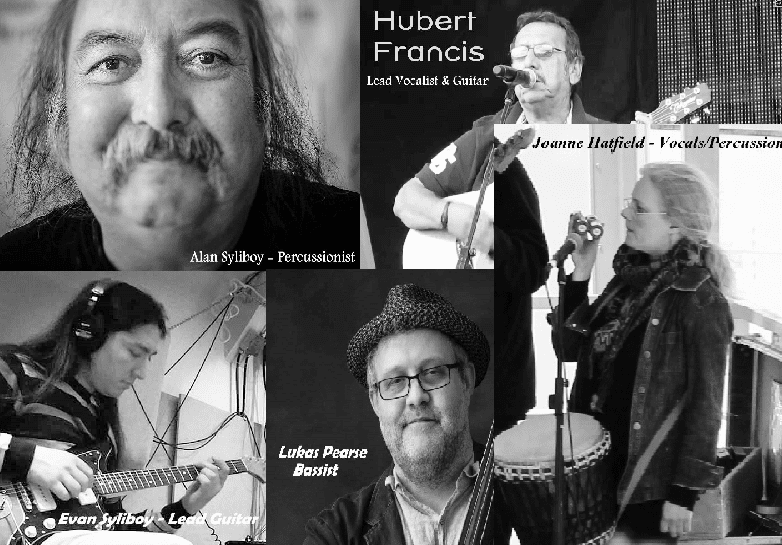 Sponsored by Long & McQuade
Fri., Sept. 27, 7:00pm: Kings County Museum
Sat., Sept. 28, 3:00pm: Idle No More: Truth and Reconciliation, Al Whittle
Sun. Sept. 29, 1:00pm: Festival Finale, Festival Theatre
An established Mi'kmaq artist, Alan Syliboy's work is influenced by the indigenous Mi'kmaq rock drawing, and quill weaving traditions. Working in acrylic and mixed media, Alan creates vibrantly coloured images exploring the themes of family, searching, spirituality, struggle, and strength. The use of layering symbols and mark making creates depth and texture in Alan's work.
The members of the group include vocalist, Hubert Francis, from Elsipogtog First Nation, star of Brookes Diamond production "Drum"; Evan Syliboy, formerly with Lonecloud; Lukas Pearce, bassist/composer/sound designer &amp sound editor; and group leader, percussionist/storyteller, Alan Syliboy. The show consists of songs, stories (narrative about The Thundermaker) accompanied by multi-media art film and live performance.
The group has recently released four new songs, with intention to release many more in the near future.
Deep Roots is honoured to bring this musical experience to our audiences this year.