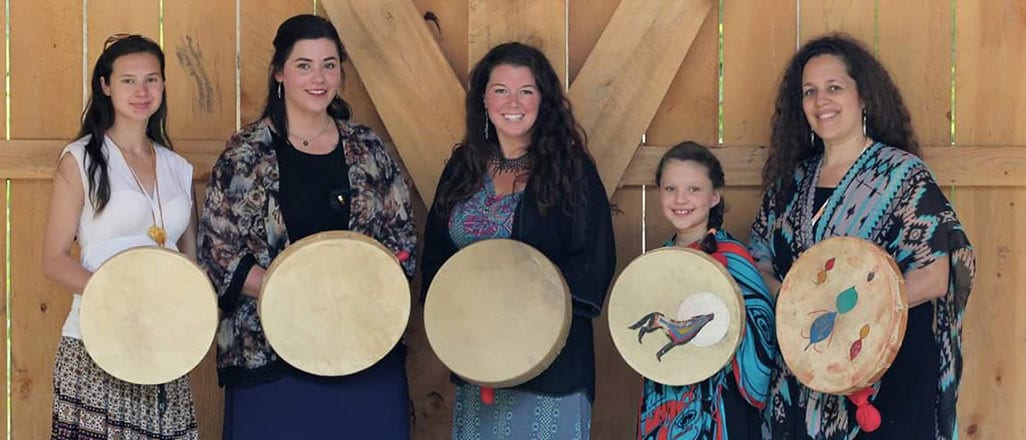 Sponsored by The Stella Rose B&B
Fri., Sept. 27, 6:00pm: Smudging Ceremony, Festival Theatre
Fri., Sept. 27, 7:00pm: The Honour Song – Main Stage, Festival Theatre
Mi'kmaq dances, chants, and songs were often accompanied by the drum, which represents the heartbeat of Mother Earth and the people. Melgita't Women is an all-female Mi'kmaw drum group from across Mi'kma'ki, sharing language, land acknowledgements, and teachings through song and stories. Rachel Whitney, Mika Francis, Kayla Mansfield-Brown, Leah Creaser, Penney Brown, and Penney's daughter Calla also spend time discussing Indigenous history, practicing traditional crafts, raising awareness about MMIWG2S, and focusing on reconciliation. Some of the most poignant work they've done is performing on stage with El Jones, the Maritime Bhangra Group, and JUNO award winners Jim Cuddy and William Prince, among many other talented artists. Seeking their own roots, they conduct their work in the spirit of sharing traditions, while honouring and inviting their ancestors.
Smudging is a traditional Indigenous practice used to cleanse oneself and the surrounding area. The practice of smudging uses the smoke of various sacred medicines to drive off negative energy and to restore balance to an individual, a group, a space, or all three. Traditionally in Mi'kma'ki, sage is used to clear negativity, sweetgrass invites positivity, cedar brings protection, and tobacco is the activator of all the medicines. These traditional medicines are placed in an abalone shell and burned to produce smoke. A sacred eagle feather or a turkey feather is used to waft the smoke around the person or object being smudged. In this way, smudging incorporates and honours the four sacred elements – the medicines come from the Earth, the abalone shell comes from the ocean, fire is used to light the smudge, and air is used through the Eagle feather to waft the smoke. Smudge to clear the mind so we may have good thoughts. Smudge the eyes so we see good things. Smudge the ears so we hear good things.  Smudge the mouth so we speak of good words. Smudge the heart so we feel good feelings. Smudge the feet so we may always walk a good path. 
Melgita't Women will lead a round dance and group smudging ceremony outside Festival Theatre, starting at 6:00pm (we will have some shelter if it rains).  People who wish to be smudged individually may come forward to have this done, after the group smudge, until 6:45pm. 
Even if you do not wish to take part in the smudging, if you simply would like to be surrounded by the sound of the drum, feel free to come! 
Melgita't Women will open the Friday night concert at 7:00pm with their rendition of "The Honour Song".