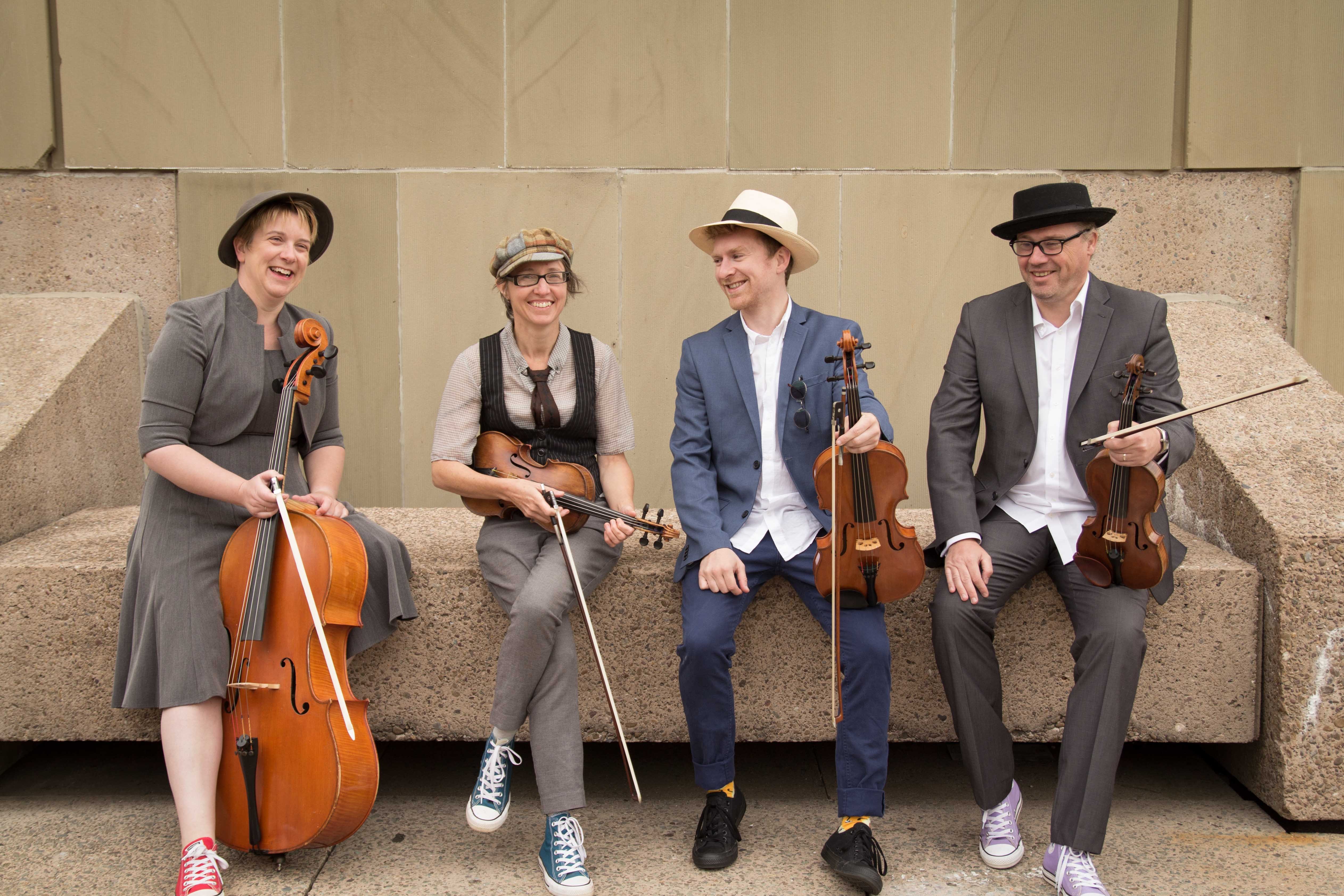 Sponsored by Friends of the Festival 
Fri., Sept. 27, 7:00pm: Main Stage with Rachel Beck, Festival Theatre
Sat., Sept. 28, 3:30pm: Picnic & Concert: Tangled Garden, Grand-Pré
The Atlantic String Machine is a dynamic ensemble of string players who perform as many styles of music as they can fit into their portfolios. Based on Prince Edward Island, the members of ASM have established themselves at the forefront of new and exciting arts groups on the island. Their unique approach comes from a desire to keep live music relevant, transformative, and above all entertaining. In their efforts to keep themselves and their audiences engaged, they seek out interesting collaborations with other artists, unexpected venues for concerts, and write their own arrangements and compositions, keeping their repertoire fresh and alive.
Every season since 2015, the group has presented its own concert series with innovative themes, such as the Passport series, which had audiences proudly returning to concerts with their ASM 'Passport' to have it stamped with the next musical port of call. Other series concerts have included movie trivia/soundtrack shows, mystery guest concerts, narrated children's shows, and of course traditional formal recitals.
The ASM has been recognized with several awards, receiving Music PEI awards for Achievement in Classical or Jazz in 2016, 2017 and 2019. For their debut album entitled ​Lost Time,​ the group received an ECMA nomination for best classical recording and member Sean Kemp received a nomination for best classical composition.
Over the past few years, the ASM has collaborated on stage and recorded with many exceptional artists, including Sarah Slean, Lennie Gallant, Catherine MacLellan, Duane Andrews, Dave Gunning, The Once, James Keelaghan, and Rachel Beck, who will feature ASM on Friday night on our Festival Theatre stage.