Please join us for our first concert, via the Deep Roots Music Youtube Channel, streaming May 30th, featuring two wonderful Valley based musicians. Help us spread the word to get this musical endeavour off to a great start. Let's make "we are in this together" really happen!
In preparation for that concert …  send your video clips singing "You Are My Sunshine" to us at ">, subject line "Sunshine;" link takes you to our Dropbox account where you can upload your video no later than May 27th.   Follow Zakary's lead on that song and let's have a great sing-along as part of our first show.
Also, don't forget the other option –  send us a short video clip, subject line "Here I Am,"  with your name, where you are and a short hello so we can add you to the ongoing community building via the interactive map (link takes you to our Dropbox account where videos will be gathered).
photo by Mark Davidson
ZAKARY MILLER was born in a city, with the heart of a farm-boy.  In his 20's, he moved from Toronto to join his now wife working on farms in midwestern Ontario.  After a few years, fate, the wind, or pure chance brought them east, where they landed in the Annapolis Valley, NS, and where Zakary has been sharing his love of yodelling and old time music.  He and his music have been well received.  Called a "local phenom" by The Deep Roots Festival in 2018 (he opened for The Sadies),  Zakary Miller is Nova Scotia's lost son, returning home to the maritimes to pick up where Hank Snow and Stompin' Tom left off.
His new album "I'm New Here" will make you smile, get you giddy with glee and warm your heart. Inspired by a century of serious musicians who didn't take themselves seriously, Zakary Miller has carried on the tradition by yodelling, hooting and hollering his unique brand of 'Canadiana Swing', combining his love for music from Jugband and Western Swing to Jazz and Folk.  Zakary writes songs of odd observation and nonsensical cheer delivered with joy and pure excitement for the music. Improvisation is an important part of his music and he started every take by reassuring the musicians to be as silly as he thinks the song is, which created the wild atmosphere for the record.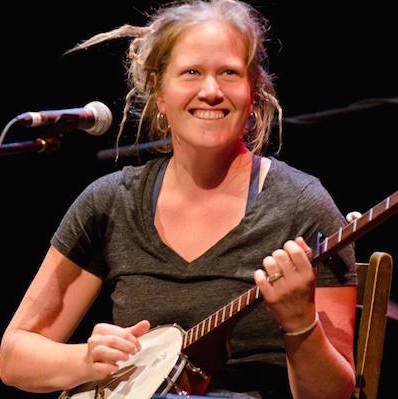 photo by Bruce Dienes
HEATHER KELDAY writes in the creative spirit of indie-pop music, while rooting her songs in folk melodies … her style might be considered a blend of folk-roots, blues and bluegrass.  Heather's strong voice, multi-instrumental talents (including banjo, electric guitar, acoustic guitar, mandolin and piano), together with her lyrical passion for the natural world, have carved her a unique place in Canada's music scene.
Heather spent about 4 years as an emerging solo artist, and then, her interactive live shows included unique compositions and collaborations with talented back-up musicians of varied genres in folk, blues, celtic, world music, bluegrass and more.   For this COVID concert, Heather will be solo, but viewers might be inclined to sing out loud in their living rooms (we hope so).   A new version of interactive participation!