Deep Roots COVID Concert # 6 coming up … live steaming Saturday afternoon, and showcasing Alex Kehler & Andrew Wells-Oberegger, and The Bombadils.  Afterwards, the full concert will be on our Deep Roots Music Videos Youtube channel, along with all the previous concerts, the sing alongs and other playlists if you are unable to take in the live show.  Listen anytime.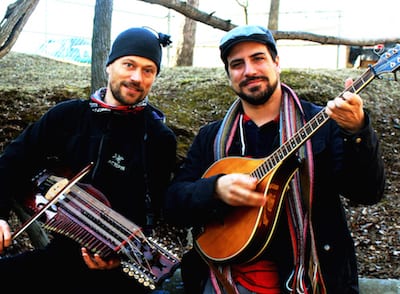 Alex Kehler & Andrew Wells-Oberegger
Join this duo from the Eastern Townships of Quebec as they embark on a musical journey across oceans and continents, traveling by drakkar or camels through old and new worlds. Alex and Andrew are both seminal figures in the Folk/Traditional and World genres. Together they craft their own versions of Celtic, Scandinavian, Turkish, Klezmer, Gypsy, American traditions, as well as a few other surprises.
Alex Kehler is Canadian-American, and plays fiddle, nyckelharpa, and cittern. He grew up in Nova Scotia, and now lives in the Eastern Townships of Quebec. He enjoys a busy career somewhere between the folk and classical worlds. He is best known for his work as a versatile crossover specialist with La Nef and Skye Consort. He has toured with these ensembles in Canada, the USA and in Europe. Alex studied baroque violin with Chantal Rémillard in the late 1990s at McGill University, and has played with groups such as Toronto's Aradia Ensemble and Montreal's Studio de musique ancienne under the late Christopher Jackson. He is a mainstay of the Québecois and New England traditional music scène, touring with bands Kehler-Williams Duo, Soulwood, Les Siffleurs de nuits, and Jeremiah McLane & Timmothy Cummings (Triton). He has also been on staff at the following music camps: North East Heritage Music Camp VT, Acadia Trad School ME, Ashokan Northern Week NY. Since 2011 he has been pursuing his passion for Scandinavian music, playing nyckelharpa and studying with renowned Swedish teachers, Torbjörn Näsböm, Magnus Holmstöm and David Eriksson.
Andrew Wells-Oberegger,   Multi-instrumentiste, compositeur, arrangeur.
Oud, luth, saz, bouzouki, guitare, mandoline, percussions, santoor, cornemuse et flûtes
À sa sortie du cégep Marie-Victorin en 2000, Andrew maîtrise la guitare classique et le luth renaissance. Depuis, son intérêt pour les instruments anciens et la musique du monde l'a poussé à apprendre l'oud, la cornemuse, le saz (un luth à manche long), la mandoline, le bouzouki, le santoor (un instrument à cordes perse), le chant, diverses flûtes et trois percussions peu communes : le daff, le req et la tamburello italienne.
On a pu entendre le multi-instrumentiste sur plus de 20 albums de différents ensembles, dont La Nef, La Mandragore, ESEM, Cercamon, De Lònga et La Strada. Cinq de ces disques ont été récompensés de prix Opus, dont celui de Meilleur disque de musique du monde, remis à l'album d'ESEM, enregistré et réalisé par Andrew. (Consultez la discographie.)
Son expertise particulière fait qu'on sollicite Andrew pour comme interprète, mais aussi comme compositeur. On pourra ainsi l'entendre au Planétarium de Montréal en 2017, dans le spectacle Mira, la petite étoile. Précédemment, il a collaboré sur des musiques de film avec Robert-Marcel Lepage, Michel Cusson, Gregoire Jeay, Luc Boivin et Normand Roger, notamment.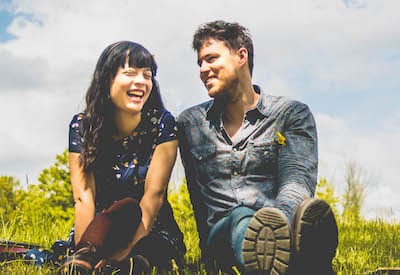 The Bombadils
Nova Scotian maritimer Luke Fraser and Alberta prairie-girl Sarah Frank create beautiful harmonies and enchanting melodies with old folk songs, poetry, and original songs in a Canadian folk and contemporary bluegrass framework.
Luke's guitar, mandolin, and harmonies are the ideal counterpoint to Sarah's sweet-yet-powerful vocals, lyrical fiddle and claw-hammer banjo. Innovative arrangements give their songs layer upon layer of sonically satisfying surprises.
They tour internationally, and have been nominated for two Canadian Folk Music Awards, and have won Folk Music Ontario's Album of the Year award.
*******************************************
The Sing-Along is Stand By Me with Mark Bezanson
Please sing or play along, recording yourself on video as you do so, then either send the video to  (also, use this email for any questions you may have)  or upload to our Dropbox
The cut-off date is Thursday, August 6 (5:00PM) and the multi-screen performance, including your contribution,  will be shown at the concert on August 8th.
********************************************
For the Here I Am segment, we are asking you to either send short videos, or pictures (or simply send an email with your name, where you are, and a quick hello)  to or upload to our Here I Am Dropbox.      We are continuing to update the interactive Google Map
If you care to make a contribution to help us in our effort to present local musicians, you can donate to our PayPal account: https://www.paypal.me/covidconcerts
Thank you – enjoy the show!