Mark July 11th on your calendars and plan to get your Atlantic province's bubble together for this next Deep Roots COVID Concert!  Sarah McInnis and The Basin Brothers will live stream via  Deep Roots Facebook page and Deep Roots Music Video You Tube channel.    Check out our channel for lots of musical options, including all previous concerts.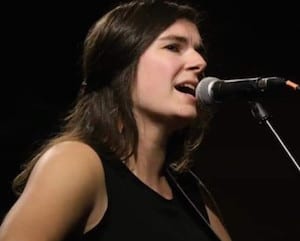 Sarah McInnis, singer/songwriter, from Peterborough, Ontario, is a storyteller, through and through. Her songs, though lyrically personal, offer an authentic voice to our universal story of the human experience. With warm vocals and guitar in hand, McInnis transforms every stage into an intimate venue.
Her debut EP, Farmer, Coal Miner, was produced by James McKenty in 2016.  The album's exploration of family, place, loss and what holds us together, illustrates McInnis' skill as she weaves seven thought-provoking tracks. She has shared the stage with notable Canadian musicians Mathias Kom (of the Burning Hell) and Craig Cardiff, and has worked on independent music projects in Peterborough, Ontario and Port Williams, Nova Scotia, where she currently resides. Recent projects have included two collaborative albums with local songwriters in Wolfville, released in 2018 and 2019. Sarah is in the beginning stages of her first full-length album, which she plans to release in late 2020!
Sarah McInnis's music is one of confessional candor. Her writing connects our large stories to her own pocket-sized vignettes, allowing each of us to expand our hearts alongside; her stories are our stories too.

The Basin Brothers are a country, roots and Americana band from Hants County, NS, whose music blends honky tonk with a rural maritime sound. Brothers Devin, Chase, Tony, and Jesse write about where they live – in the country, in the woods, on the farm, and along the shore. Make no mistake, these boys ain't city folk and that certainly isn't cigarette smoke. They play songs to bounce and brawl to, with their heads in the clouds and hearts on their sleeves. Their Charles Austin produced debut album "Country Paranoid " showcases their gritty down-home sound, mixing classic twang and pedal steel with rock 'n' roll energy.
The Basin Brothers have charmed audiences at Deep Roots Music Festival, played the part of local talent at Full Circle Festival four years running, kicked things into high gear at the Winter Country Revue in Halifax, and most recently showcased at Nova Scotia Music Week. On top of writing their own brand of country and Americana songs, the boys also curate the annual North Along the Shore Jamboree, an all-day country, Americana, and folk music festival held in their own backyard of Newport Landing, NS.
In the fall of 2020, The Basin Brothers will release a new album produced by Thomas Stajcer and their live show promises to celebrate new levels of musical growth and rural maritime charm.
SING- ALONG  … We want your voices!!  Please join us …  record yourself on video, singing along to Don't Stop (Fleetwood Mac) with The Gilberts.  Send your video to or upload to our Sing-Along Dropbox:   https://www.dropbox.com
HERE I AM … Where are you?  We'd like to know.  Send a short video, a picture, or  just an email with your name, where you are, and a quick hello to or upload to our Here I Am Dropbox:  https://www.dropbox.com
We'll continue to update the interactive Google Map.