Another great Deep Roots COVID Concert coming up … featuring Maxwellton and  The Gilberts.  If you miss the live stream on July 25, this concert will be found alongside the previous concerts, and lots of other great musical choices, on our Deep Roots Music Videos Youtube page.  Let's keep supporting our musicians!!  If you want to help us in our efforts to do that, contribute via our Paypal account.

Maxwellton's audiences have been astonished by the band's immense sound. This collective of musicians combines dynamic melodies and full-bodied harmonies with guitar and drums that come together in a provocative, incendiary mix. They put their unique spin on a musical melange, including sounds ranging from Charles Bradley to Bahamas. Their original music is a rapidly expanding catalogue that transcends a variety of musical genres. Maxwellton are Christiane Theriault, Eric Gillis, Melissa Comeau, Sarah McInnis, and Cailun Campbell, featuring Andrew Bartle on drums.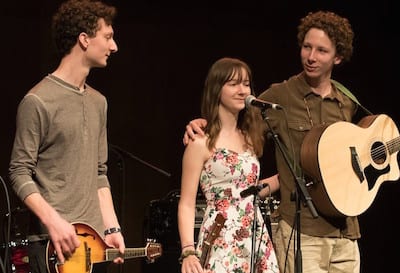 The Gilberts are a sibling contemporary folk trio bringing vibrant three part harmonies, soulful lyricism and a melodious alchemy to their songs and stages. The Gilberts are Frieden, Reuben and Maisie. They were born in the UK but they grew up at music festival grounds around Nova Scotia, first as toddlers trundling around muddy or sun-baked fields; then, when a little older they started stepping up to open mics. Soon people were asking them to perform at events, and then came invitations to perform on festival main stages.
The Gilberts have performed at Lunenburg Folk Harbour Festival, Deep Roots in Wolfville, and Full Circle at Newport. They have played dozens of other gigs and developed a reputation for delivering engaging and memorable shows.
Diverse musical influences inform their song-writing, performance, and choices including choral music, musical theatre, 1970s soft rock and pop, singer-songwriters, and folk music from the 1960s to the current scene. The Gilberts have been the grateful recipients of helping hands and words from countless musicians, educators and supporters who have shared their time and experience so generously.
SING- ALONG  … Join in.   Record yourself on video, singing along with The Bombadils to The Heart of Life (John Mayer).   Send your video to  or upload to our Sing-Along Dropbox:   https://www.dropbox.com
HERE I AM … Where are you?   Send a short video, a picture, or  just an email with your name, where you are, and a quick hello to or upload to our Here I Am Dropbox:  https://www.dropbox.com
We'll continue to update the interactive Google Map  as we hear from people.