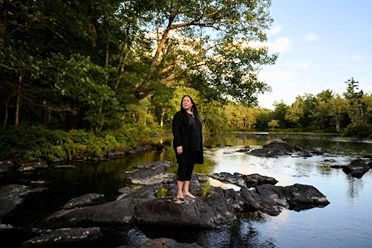 Kespukwitk, Nova Scotia
Visual Artist, Mi'kmaq Birch Bark Canoe Builder and Indigenous Land Guardian
Sponsored by Friends of the Festival 
Friday 2pm, KC Irving Centre
Visual Artist, birch bark canoe builder and Indigenous Guardian are just a few of the titles that Melissa Sue Labrador holds dear to her. Coming from the Wildcat Community in the Mi'kma'ki district of Kespukwitk, Nova Scotia, her family is well-respected across the Mi'kmaw communities and world-wide because of the knowledge they hold and share – from the Mi'kmaw art of basketry and birch bark canoe building to the more traditional knowledge of plant medicine as well as ecological knowledge.
Melissa's upbringing was spent immersed in the culture, values, and ways of her people. Everyday life was and still is connected to the traditional ecological knowledge that has been passed down through the generations on both sides of her family.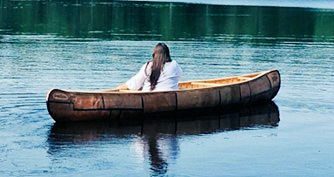 Since her early teens she has been creating and selling art. In the early 2000s she has worked towards the conservation, protection and knowledge sharing of the Oceans/Waters and Land within Mi'kma'ki, particularly the Kespukwitk district she comes from. Since, 2004 and under the direction of her father, well-known birch bark canoe builder Todd Labrador, she has been working closely as an apprentice of this unique style of canoe building. Traditional Ecological Knowledge (T.E.K.) plays a big role in all the work she does.
The connection between humans and Mother Nature is important to share. It is reflected in her art; she incorporates T.E.K. within her art. She can share knowledge that is not only important to the scientific community but to everyone that lives on Mother Earth across canvas through brightly coloured images that are often inspired by her family's direct connection to the petroglyph images of Kejimkujik.
There is a bridge that needs to be maintained between traditional scientific knowledge and modern scientific knowledge to allow for the whole picture to be seen. This teaching was passed down to her by her Grandfather, the late Charles W. Labrador who was Chief of the Acadia First Nation and worked hard to bring this knowledge to the scientific community. He referred to it as whole-body-knowing because all senses including your spirit are involved in the journey on Earth. The connection of those senses and spirit allow you to understand spiritual and science as one. With his passing in 2002, Melissa has been working keeping that knowledge alive and shared.
Melissa is also a parent of 11-year-old twins, Tepkunaset and Nakuset whom she homeschools.