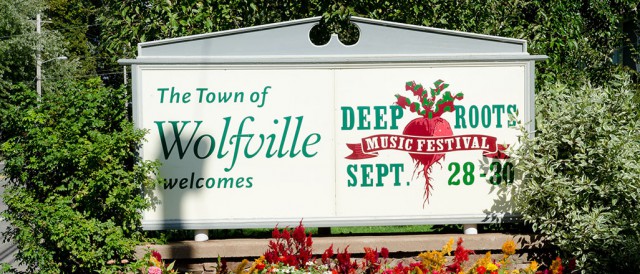 The Town of Wolfville is located in the beautiful Annapolis Valley of Nova Scotia. The Valley is a tourist attraction in itself, especially in the fall, with its breathtaking colours, and bountiful orchards and fields. Year-round, the valley boasts spectacular scenery that includes the rolling hills overlooking the coastline, the Acadian dykelands, and the world-famous tides of the Bay of Fundy. Festival venues are located in and around the Town and on the beautiful and historic campus of Acadia University.
With this picturesque university town and its beautiful natural surroundings as the backdrop, the Canadian Deep Roots Music Festival brings together some of the finest folk and roots singers, songwriters and musicians in the world for a weekend of concerts, workshops and celebration.
Visitors know there is something special here. They feel it in the hospitality they are shown, the easy-going attitude of the people they meet and what they describe as our 'laid-back' life style.
Wolfville's Visitor Information Centre is a great resource of information on local accommodations and things to do around the Fundy Shore region.
Local phone: (902) 542-7000
Toll Free phone: 1-877-999-7117
Email:
Wolfville Map & Driving Directions
Wolfville & Area Links