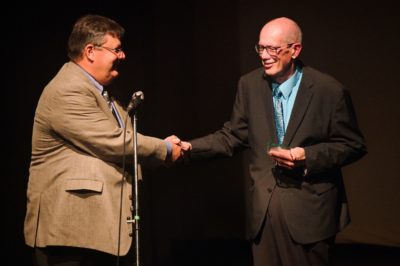 In 2022, the 19th Valley Arts Award was presented to Roger Taylor at the Red Cross benefit concert of the Deep Roots Music Festival. (The remainder of the festival was cancelled due to Hurricane Fiona.)
The Valley Arts Award stands in recognition of a person (and sometimes, as in 2020, a team!) who has made a significant long-term contribution to the arts in Nova Scotia's Annapolis Valley. Specific criteria to consider in nominating someone include that the person is or has been a local resident, and they have worked in development and/or promotion of Valley artists, arts events, or culture.
The Valley Arts Award was first presented in 2004 to Jack Sheriff, founder of Theatre Arts Festival International and the Kipawo Showboat Company. Other recipients of the Valley Arts Award include:
Nominations for 2023 can be submitted, in the form of a letter or e-mail, outlining particulars of the contribution the individual has made to the cultural life of the region, to:
Wendy Elliott – 39 Kent Avenue, Wolfville Nova Scotia, Canada B4P 1V4
Please provide two references, including both name and contact information. The Valley Arts Award is presented during the Deep Roots Music Festival (usually the last full weekend in September), at the Festival Finale on Sunday afternoon.