A GLORIOUS WEEKEND AT DEEP ROOTS… FRESH BEATS RHYTHM PARADE & MORE!
Fabulous FREE events happen at Deep Roots Music Festival throughout the day Friday, Saturday and Sunday.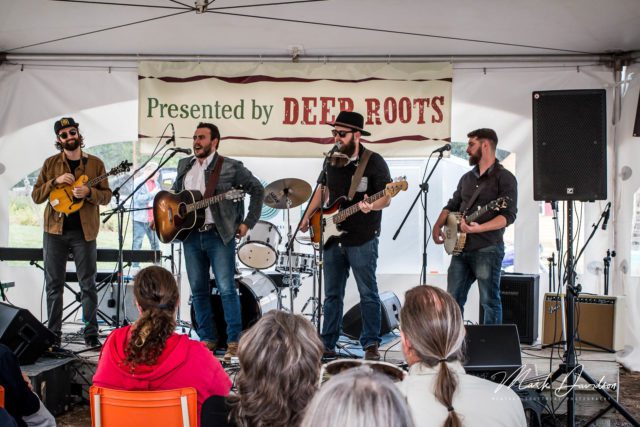 Saturday Morning
Singing
Express your musical side – sing at the harmony workshop on Saturday morning with Sarah McInnis and Rebecca Fairless, at the Al Whittle Theatre.
Kids PLAY Music
Children under 7 and their adults can join Marilyn Manzer at the Baptist Church
vestry for an hour of playing, singing, clapping and dancing.
Drumming
Djugdjug Ensemble will provide drums and training so you can participate in the drum circle at Clock Park.
Parade Prep – Crafts
Explore your creative side – prepare for the parade by either making crafts or putting on costumes and playing with giant puppets.
At the Just Us! Festival Tent in the Clock Park, artists from Ross Creek Centre for the Arts have exciting craft supplies – so you can make things like hats, masks and musical instruments that you can use in the parade.
Parade Prep – Puppets
Over in the Festival Theatre lobby, starting at 10 am, Wee Giant Theatre has magical costume pieces to share and will help you explore and express the character you develop.
For maximum enjoyment, please give your children the time they need to truly play and explore these pieces, to choose what really speaks to them, and to develop their character and movements, before the group leaves the building at 11:30 to go to Clock Park and joins in the parade.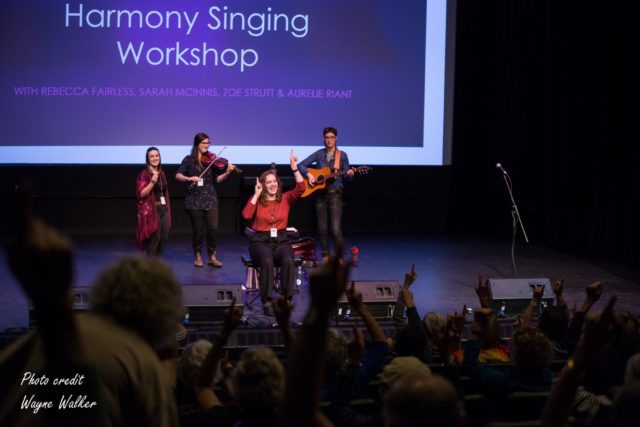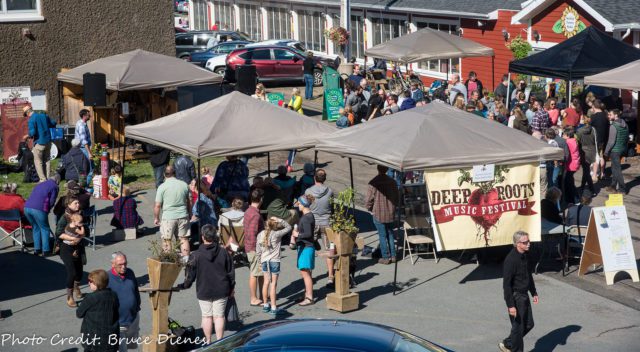 Saturday Parade
Join the fun
Whether you've participated in one of our morning workshops or not, come join the Fresh Beats Rhythm Parade at noon. It will be the most fun you've had all day, for sure.
Everyone gathers at the Clock Park at 11:35am bringing their own rhythm instruments, if they have them, and wearing their finery, a costume or just a wacky hat if so inclined.

Parade
Many folks have claimed that our Fresh Beat Rhythm Parade is one of the highlights of their weekend. It's at the very heart of the Deep Roots Music Festival. At NOON … the parade in all its glorious colour and joyous noise begins. Many people walk or dance. Wheelchairs, bikes, wagons and strollers are welcome. All motorized traffic is stopped while the parade goes on.

Parade Prep Workshops
Since the morning includes a workshop to make hats, masks and instruments for the parade, you could be wearing the fantastic hat or mask you've just made, or be holding the rhythm instrument you've just created … or be wearing the Wee Giant costume you've just borrowed!
Parade Route
Leaving from Clock Park, the parade proceeds east on Main Street, turns left and goes north on Central Avenue, turns left again moving west on Front Street. A final left and a hop, skip and a jump south on Elm Street will bring us back to Clock Park and the Just Us! Festival Tent. Please stay in costume and gather for a GROUP PICTURE right after the parade finishes. (Route subject to change.)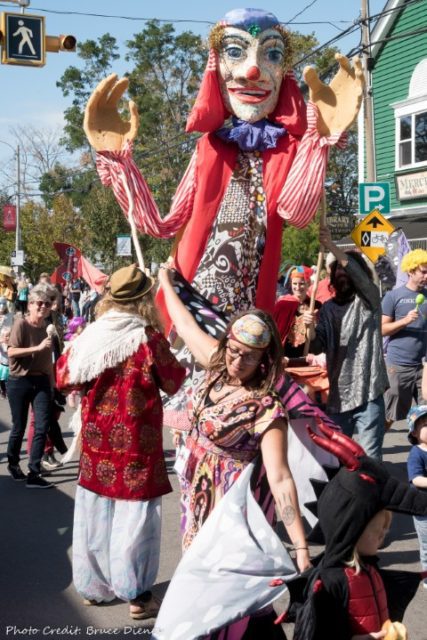 After the Parade
Clock Park
After the parade, enjoy free music at the Just Us! Festival Tent, as well as a puppet show for all ages. There's a kid's music show and then an Open Mic … many reasons to hang around. (Open Mic sign-up is at 12:30 – are you a performer?)
Farmer's Market
If you check out the Farmers' Market (open until 1pm), you'll catch more Deep Roots' music there – maybe the last songs of Barncat, and then a set from The Chimney Swifts. And you probably won't be able to resist picking up some of the great local food choices for your picnic later.
Group Picture and Costume Return
Please stay in costume and gather for a group picture right after the parade finishes. Cooperative play in costume is encouraged. This is one of many reasons to hang around in the Clock Park on Saturday afternoon. When you are done with your costume, please return it to the Wee Giants and help them pack it away in the bins at the Park.
What to bring
If you bring your own water bottle, we have water onsite for refills. Bringing your own chair is recommended. Bringing a picnic along to enjoy while listening to the music adds to the fun!
Open Mic
Do you have a song to sing? Deep Roots listeners want to hear you! Scott Marsters and Hannah Clausen host our Open Mic at the Just Us! Festival Tent starting at 2 pm. Sign up with Scott or Hannah, at the tent, starting at 12:30 pm.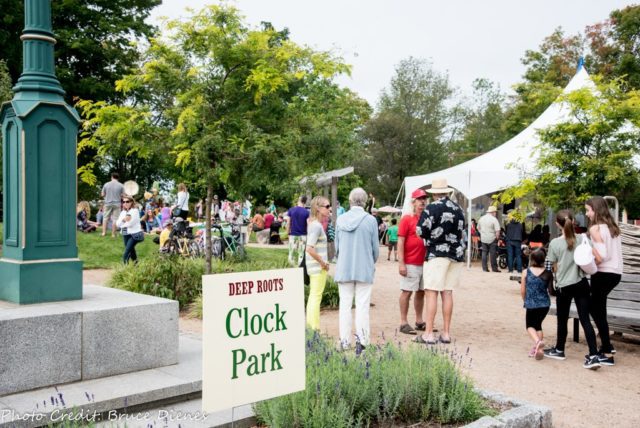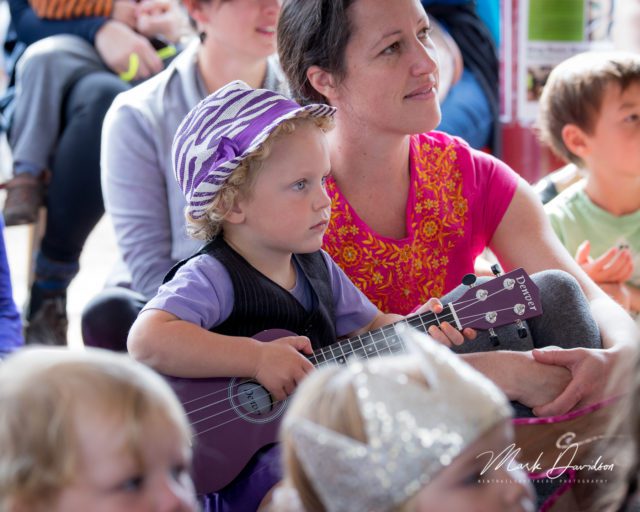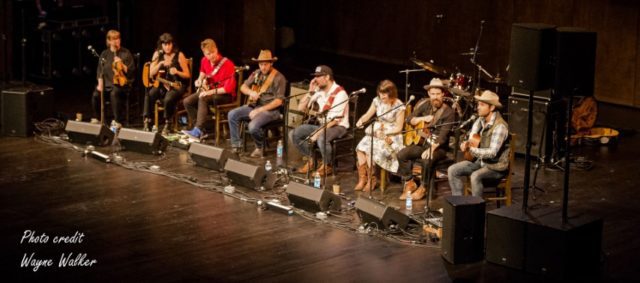 If the weather is REALLY wet …
September is usually beautiful in Nova Scotia, but… it could still rain.
Almost all of our venues are indoor and unaffected by adverse weather conditions, and all shows at the Clock Park Tent (except drum circle) will go on, rain or shine.
If the wind is too much, the Clock Park Tent events may need to be cancelled.