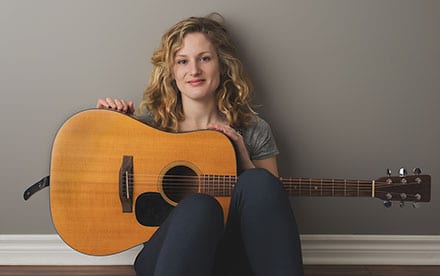 Sarah Pound is a singer-songwriter, performer and music therapist. She's been singing for as long as she can remember. Her main instruments are the guitar, piano and trumpet, but she is most passionate about singing.
She began writing poetry as a young girl, and then songs as a teenager. Sarah has a Bachelor of Music Therapy degree from Acadia University. She specialized in classical vocal training, acoustic guitar, choral singing, world drumming, composition, jazz trumpet and poetry. After graduating, she recorded and released her first solo album, It's About Time (2009). Her second album, Capacity (2015), is an eclectic soul-folk album of her originals in full band arrangements. A third collaborative album, This Place (2016), was produced by Ruby Throated Records. On that recording, she and all the other songwriters were accompanied by the Hupman Brothers Band.
Sarah sings a wide variety of genres, from folk to soul, bluegrass to blues. She is also the female vocalist for Bluesmobile, the Annapolis Valley's own 15-piece dance band. Bluesmobile is also being featured at Deep Roots this season!
Alone or with Bluesmobile, we're excited to have Sarah join us at Deep Roots this year.
For more visit:
www.sarahpound.com