Deep Roots COVID Concert #7 is another offering of amazing talent for your listening pleasure … Sahara Jane and Ken Shorley; Kamila Nasr & Rodrigo Simões.  Catch it here if you miss the live streaming: Deep Roots Music Youtube Channel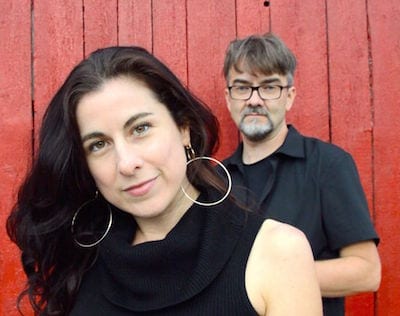 Sahara Jane & Ken Shorley
Sahara Jane is a versatile musician, from Nova Scotia, who has graced stages from Beijing to Bombay, from the Fundy shore to the south of France. She is a songwriter and performer with an onstage presence that audiences find both disarming and spellbinding.
Learning in India for over a decade, Sahara has returned to Canadian stages with her long-time musical collaborator (and now husband!), Ken Shorley, and their new album, Between Worlds. As well as playing guitar, she plays the sarangi, a haunting string instrument that, although once popular in South Asia, is now only played by a few.
Sahara and Ken have played in festivals across Canada, including Deep Roots Music Festival, Sunfest, Mosaiq Multicultural Festival, Halifax Jazz Festival, St John's Folk Festival, and Lunenburg Folk Harbour Festival.
Sahara describes their sound, and the intention behind it, as genre fluid. Indian and Persian influences sit comfortably alongside downtempo beats, jazz and folk.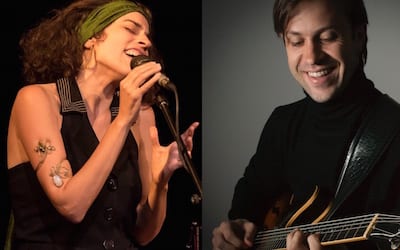 Kamila Nasr & Rodrigo Simões
Kamila Nasr is a Canadian singer and composer, accomplished in a variety of styles and repertoire.  She is also known for her work as a solo harpist, her many performances on theremin, and her skills backing up other performers on flute, guitar and keyboard.  
In the late 1990's, with funding from the Canada Council for the Arts, she recorded 2 full-length albums of original music with her sister, Sahara Jane (www.sarakamila.com) and toured extensively throughout North America. In the early 2000's, she studied Brazilian Jazz and Latin music and in 2005, moved to Brazil to perform and further her studies.   In 2006, Kamila was featured in "Virtuoso," a documentary on the theremin by Terry Stone.
In July 2007, Kamila moved to Beijing where she became the lead singer for the Samba band "Sambasia" and quickly got involved in the local Jazz scene. Kamila created a bossa nova band ("Girassol") and a jazz band ("Lullaby Fire") with whom she regularly performed in venues throughout Beijing, including The Lan Club, Suzie Wong's, Star Live, Mao Live, OT Lounge, The Worker's Stadium (with Sambasia and Cui Jian) and many music festivals and venues across China.
In 2012, for two months, Kamila was composer in residence for Syzygy, an international circus troupe in Toulouse, France; as well, she was performing across Goa, India, and Southern France with Sahara Jane and Rio Samaya band.   Her latest album  "Paint the Moon," a combination of original and Brazilian music, (released in September 2012) moves from jazz, to bossa nova, to Brazilian Funk, to Fusion folk music.   The album is backed up by some of Beijing's top jazz players, and has a fluidity and elegance despite the ranging styles.
Kamila's latest project is a group called ASHK, a world music group with her two sisters Ariana and Sahara Nasr and Ken Shorley. ASHK performs music in twelve different languages and uses a variety of instruments from around the world. Their show is a combination of original material and various world music which they have arranged in 3 and 4 part harmony.   Their first album, released in March 2018, is a live album performed at the Music Room, in Halifax, in 2017.
Rodrigo Simões is a Brazilian musician of international level and also a composer inspired by the music of his native country. Attracted to jazz improvisation, he mixed samba pieces and jazz standards with his own compositions, to which he added an exotic touch. Soak up the warmth of the South and its intoxicating rhythms as you listen to his music!
************************
The Sing-Along is Lonesome Sky with Sahara Jane and Ken Shorley
Please sing or play along, record yourself on video, and send the video to  (email any questions you may have) OR upload to our Dropbox.  The cut-off date is Thursday, August 20 (5:00PM) and the multi-screen performance will be shown at the next Deep Roots COVID Concert on August 22 at 3:00PM ADT
For the Here I Am segment, we are asking you to send short videos, or pictures, or simply an email with your name, where you are, and a quick hello to or upload to our Here I Am Dropbox. We'll continue to update the interactive Google Map.
************************
If you care to make a contribution to help us in our effort to present local musicians, you can donate to Deep Roots Music Cooperative PayPal account