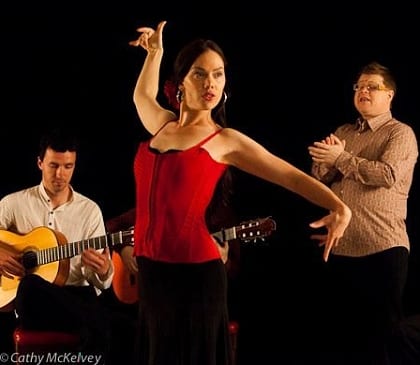 Compañía Azul has a heart split between the coasts of Atlantic Canada and the dry earth of Andalusia. Founded by dancer Megan "Azulita" Matheson, guitarist Bob Sutherby, singer Sean Harris and percussionist Tony Tucker, the company strives to bring their own voice to flamenco, melding diverse backgrounds of various musical styles, while maintaining grounded in the flamenco traditions.
All four principal members began their careers with the highly regarded El Viento Flamenco, founded by Evelyne Benais and Bob Sutherby in St. John's Newfoundland.
Artistic Direction: Megan "Azulita" Matheson
Music Direction: Sean Harris, Bob Sutherby
Megan "Azulita" Matheson
Dance/Choreography/Vocals
Sandra "Tziporah" Bornemann Dance/cello
Sean Harris Vocals
Bob Sutherby Guitar
Tony Tucker Percussion
Guest artist: Ian MacMillan (percussion)
Sandra "Tziporah" Bornemann
Dancing since the age of four, Tziporah(meaning "little bird" in Hebrew) entered into the world of flamenco after being drawn in by flamenco's compelling rhythms and brazen attitude. She began her studies with Afifa Lahbadi and Bonnie Stewart of Centro Flamenco in Vancouver. Continuing on to study in Halifax at El Viento School of Dance under the instruction of Azulita and Evelyne Benais, Tziporah has developed an undeniable passion for flamenco dance.
Sean Harris
Sean began singing from a very early age and became a versatile performer, tackling classical, blues, rock, gospel and eventually flamenco. His training in Canada and Spain with teachers Juan del Gastor and Patricio Tito helped him develop a flamenco voice that has been described as "rich, soaring and heart-rending".
Megan "Azulita" Matheson
Azulita, nicknamed for her blue eyes, began her studies with Evelyne Benais, going on to concentrate her studies with Juana Amaya, Rafael de Carmen and Ángela Gabaldón. She is inspired by the visceral nature of flamenco and its ability to provide a platform for the most complicated set of emotions and is in love with creating rhythms and choreography to do so. On stage she has been described as "stunning".
Bob Sutherby
Throughout his years in El Viento Flamenco and Los Flamencos, Bob has established himself as a respected flamenco guitarist. Bob is known for his emotional playing, his clear, crisp sound and his ability to accompany a dancer with precision. He has studied in Canada and Spain with Patricio Tito, Juan del Gastor, Miguel Aragón, Juan Martín, Flavio Rodrigues and Arcadio Marín.
Tony Tucker
Tony's extensive experience with African and Cuban drumming, Newfoundland Celtic and even Hard Rock kit drumming have given him the subtlety and dynamism necessary to a flamenco band.
Photos by Cathy McKelvey
For more visit:
Or on Facebook: