Sponsored by Paddy's Brewpub and Rosie's Restaurant (Festival Patron)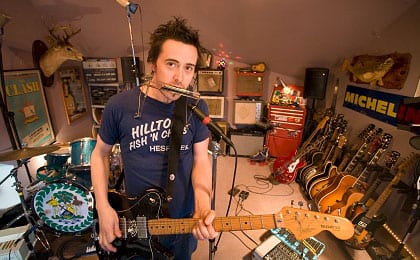 With two Juno nominations and six solo albums to his credit, Danny Michel is one of the finest and most charming songwriters to grace the stage. He's in his element during live performances, playing off the energy of the crowd; and his spontaneity, disarming sincerity and honesty have earned him a devoted global fan base.
"Danny Michel has reached a point where his musical vocabulary is so broad, his songwriting/arranging chops so sharp, his guitar playing so distinctive and his taste for the right sonic touch so impeccable that he can do whatever he wants and make it compelling" – EYE MAGAZINE 5/5 STAR REVIEW
Danny is an innovator, demonstrating that creative artists in the digital age can build rich, successful and intimate relationship with fans. In 2008, tracks from his hit single "Feather, Fur & Fin" were made available to fans to remix and post to his website. Then, with his newest album "Sunset Sea," recorded with American Grammy-nominated producer Mark Stockert, Danny challenged his global fan base to submit their own tracks for the album, and actually replaced a few of his own parts with what he considered better ones from his fans.
Deep Roots is thrilled to be bringing Danny Michel to our stage … don't miss your chance to see this dynamic performer!
For more visit: www.dannymichel.com