Sponsored by Just Us! Coffee Roasters Coop (Festival Patron)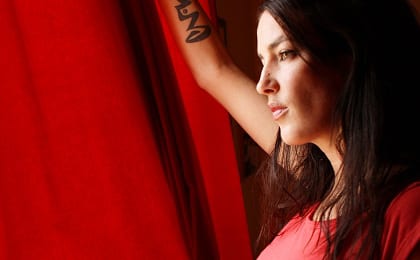 Kinnie Starr is a Juno Award winning producer (2010 – Digging Roots, "We Are") and Juno Nominated artist (2004 – "Sun Again"). She has worked with industry heavy hitters Wendy and Lisa (Prince), David Campbell (Beck's father), Carmen Rizzo (Alanis Morisette), Chris Bruce and Earl Harvin (Seal, The The), Tegan and Sara, and Nelly Furtado. Furtado acknowledges Starr as one of her key influences.
Kinnie has performed in Canada's National Aboriginal Achievement Awards twice – she is of mixed European and Mohawk descent, true Canadian to the core. In 2008, the Royal British Museum, Victoria, Canada, recognized Starr as one of BC's cultural icons.
Her fifth album, A Different Day, produced by Chin Injeti, is a focused collection of optimistic head-nodding songs looking at human relationships and love. Often pegged for her fierce intelligence and ability as a rapper, "A Different Day" turns the page onto Starr's chanteuse-like, melodic grace, and unique guitar style.
[youtube]http://www.youtube.com/watch?v=xvXtCsdJbh8[/youtube]
Don't miss this multi talented woman at Deep Roots and for further info, check out: