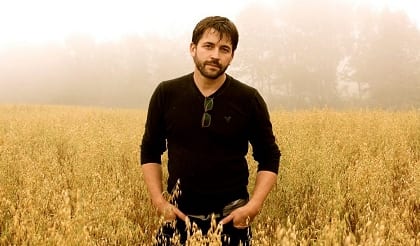 Deep Roots takes great pleasure in presenting Keith Mullins at our 2013 Festival. Keith is true homegrown Nova Scotia talent. His heart for music and for others is clear when you listen to his music and hear about how much he does to help others around him.
Bandsman, singer/songwriter, workshop facilitator, multi-instrumentalist, eco-farmer, father … music-chameleon Keith Mullins has been playing music all his life. Raised in Cape Breton, NS, his family played all styles of music, from the hits to jazz, from Cape Breton fiddling to country; the music runs thick and it's in his blood.
"Keith creates music from the soul; the instruments he uses to express it – drums, vocal, guitar – are all secondary," (Andrew Fedora, Crowdis Bridge). He is a multiple award winning songwriter with a degree in classical music and has studied with master drummers in West Africa and Cuba. He's toured the world playing with East Coast's finest musicians and has worked passionately at the art of music, from creation to performance to production all the while maintaining his focus in the pursuit of forward thinking projects.
His album "Localmotive Farm" shares the name with his CSA farm (http://www.localmotivefarm.com/) in Nova Scotia that fed 75 families over 20 weeks last year. His album "The Wood Buffalo Youth Song Project" was a collaborative project in which he created a CD that the schools could use for fund-raising. Keith is currently in the studio working on two separate projects: one solo album with his full Cuban band and the other, producing an album for a school fundraiser involving artists Jeremy Fisher, Hawksley Workman, David Myles and Meagan Smith.
In addition to his stage performance and as a 10th anniversary gift to the Valley, Deep Roots is arranging for Keith to do a songwriting project with Kings County high school students during Deep Roots Music Festival this year. Lucky students! And lucky anyone who gets to hear him perform!
For more visit
http://keithmullins.ca/