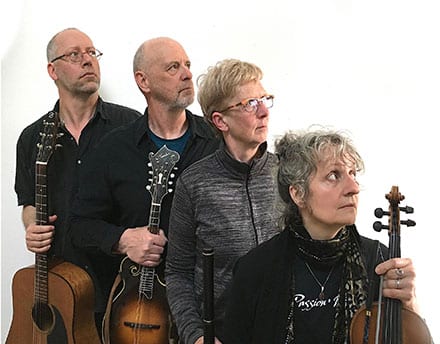 Denise Aspinall, Cathy Coates, Alister Thomson and Aran Silmeryn are four friends with a whimsical band name and a shared love for voyaging across the vast cosmos of traditional Celtic music.

A homegrown band, they spring from the fertile and ever-changing soil of one of Wolfville's longest-running musical institutions, the Sunday Night Irish session at Deep Roots venue Paddy's Pub. Striking out on their own with fiddle, flute, mandolin, guitar and just a touch of rocket fuel, they bring a lively and lovely acoustic feel to the jigs, reels, hornpipes and ballads of Ireland and beyond.
Space Paddy Bog People will host a contra dance Saturday afternoon at this year's Deep Roots Music Festival.  So much fun to be had!!!